March 18, 2018
Are you a fan of traditional soul food? Do you love cooking up a Braised Short Ribs recipe but are worried it won't fit into your new healthy diet? Fear not! I have your recipe fix with this Healthy Braised Short Ribs Recipe!
I love soul food and so do all my clients. As a dietitian, my goal is to help you eat healthier and live a healthy lifestyle while not giving up on the foods you love. Which is why I have been developing healthy soul food recipes to share with you every week on my blog. My recipes are proof that you can still eat the food you love while losing weight and sticking to your diet.
ARE SHORT RIBS FATTY?
Short ribs are known to be fatty. But if you braise the ribs for longer than 2 hours it will allow more of the fat to render. Alternatively, try and buy short ribs with a minimum layer of fat embedded within the meat. It is a travesty to pay good money for just big chunks of fat on your meat! You are buying short ribs for the meat, not the fat.
HOW TO REMOVE THE FAT FROM SHORT RIBS?
If your short ribs do have layers of fat, make sure you trim it off before seasoning and searing the meat. If you find your short ribs to still be fatty and chewy after cooking it then you'll need a longer braise. It is not uncommon for a short rib recipe to ask for 2-6 hours of braising. Over a longer braise, the fat should partially melt off the meat. Some of the fat is going to stay on the meat though- which you can then cut off.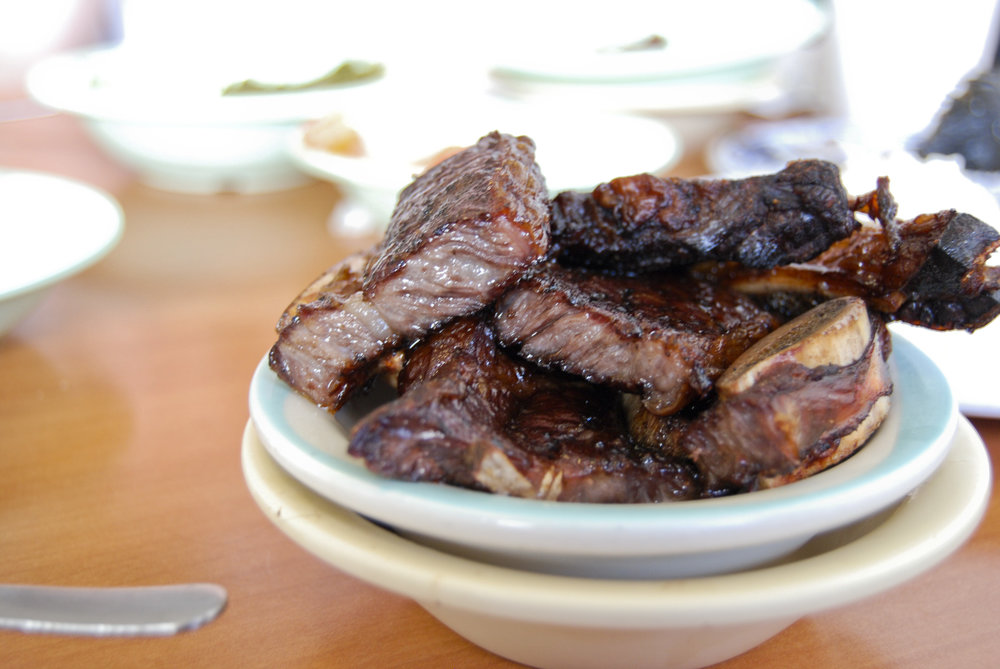 ARE SHORT RIBS HEALTHY?
Braised short ribs are a good source of protein and a number of essential vitamins and minerals. A 3.5-oz. a serving contains 29 g of protein, meeting more than 50 percent of your daily value. A 3.5-oz. a serving contains 3.2 mg of iron, 12 mg of zinc, 33.5 mcg of selenium and 3.92 mcg of vitamin B12. Short ribs provide your body with all of the essential amino acids, plus it is carbohydrate free.
A HEALTHY BRAISED SHORT RIB RECIPE
6 (about 4 pounds) bone-in short ribs
½ teaspoon salt
½ teaspoon black pepper
3 tablespoons grapeseed oil
½ white onion, diced
2 to 3 cloves garlic, crushed
1 cup beef broth (or vegetable stock)
3 tablespoons tomato paste
2 tablespoons worcestershire sauce
1 sprig fresh rosemary
1 sprig fresh thyme
Preheat oven to 325 degrees.
Season all sides of the short ribs with salt and pepper.
Heat a heavy, oven safe pot over high heat. (preferably CastIron)
Add in grapeseed oil and allow to heat briefly. Sear short ribs in oil, about 1 minute per side; or until golden brown. Remove from pot and set aside.
Add in onion and sautee 2 to 3 minutes. Add in garlic and sautee 1 minute more; add in tomato paste.
Pour in beef broth and worcestershire sauce. Bring to a simmer. Add in meat. Place rosemary & thyme sprigs on top.
Cover and transfer to preheated oven for about 2.5 hours, until meat is tender.